The Samford University Bulldogs One-Day Football Prospect Camp is inviting all boys in grade 9 up to grade 12 who aspire to become a college football student-athlete. It is going to run from 5 o'clock in the afternoon until 7 o'clock in the evening on the 5th of June. This football prospect camp is the perfect venue to display exceptional football skills in front of the university's recruiting staff. Moreover, it will take place at the leading-edge Seibert Stadium which is on the Samford University campus. This program is going to simulate a real college training environment. In addition, the registration fee is $40 per player. The program is especially for QB, RB, WR, TE, OL, DL, LB, and DB positions.
| | |
| --- | --- |
| | |
| 4:00 PM | Registration |
| 5:00 PM | Camp Start |
| 7:00 PM | Camp End |
| | |
Running this event is the Samford University Bulldogs college football coaching staff. All the groupings and instructions are in accordance with the participant's age and skill level.
What to Bring to the Samford University Bulldogs One-Day Football Prospect Camp
Cleats
Tennis Shoes
Football
Workout clothes
About Samford University
Samford University, formerly Howard College is a private, coeducational, Christian university in Homewood, Alabama. It is one of the country's oldest universities. Samford University is an affiliation of the Alabama Baptist Convention. It also has collaborations with international universities like the Hong Kong Baptist University, the Seinan Gakuin University, and the Universidad Blas Pascal. Currently, Samford University is serving around 3,300 undergraduate students. 35 percent of this undergraduate student population are males and 65 percent are females. The university is also serving more or less 2,100 postgraduate students. The university's student to faculty ratio is 12:1. Samford University is also among the nation's top academic institutions. As a matter of fact, it is 3rd in Regional Universities South and 1st in Best Colleges for Veterans of the US News and World Reports 2018 Best Colleges rankings. In athletics, the university is competing in the Southern Conference of the National Collegiate Athletic Association Division I. They are the Bulldogs and blue and red are their official colors.
Samford University Bulldogs One-Day Football Prospect Camp Organizers
Leading the Samford University Bulldogs football team is Head Coach Chris Hatcher, a native of Macon, Georgia. He is now entering his fifth season at the helm of the university's football program. Coach Chris Hatcher is a bachelor's degree in health and physical education graduate from Valdosta State University. Ultimately, Coach Hatcher is the 2004 American Football Coaches Association National Coach of the Year awardee. This award comes after he led the Valdosta State Blazers to a title. Coach Chris Hatcher is also an inductee into the Gulf South Conference Hall of Fame, Valdosta State Hall of Fame, and the Division II Hall of Fame.
Completing the Samford Bulldogs coaching staff are Bill D'Ottavio (Assistant Head Coach-Defensive Coordinator/Safeties), Russ Callaway (Offensive Coordinator/Quarterbacks), Shawn Bostick (Assistant Coach/Offensive Line Coach), C.J. Bennett (Running Backs Coach), Darius Eubanks (Safeties Coach), Jamael Lett (Secondary Coach), Ross Newton (Linebackers Coach), Derrick Sherman (Wide Receivers Coach), Ricky Turner (Special Teams Coordinator and Tight Ends Coach), James Carlson (Director of Equipment Services), Rocky Sabbatini (Football Video Coordinator), Ben Ashford (Director of Strength and Conditioning), and Steve Adams (Director of Player Personnel).
Summary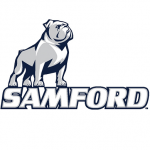 Service Type
Provider Name
Samford University Bulldogs
,
35209
,
Area
Description
Join the Samford University Bulldogs One-Day Football Prospect Camp on the 5th of June from 5:00 PM until 7:00 PM. This event will provide the participants a feel for how it is to train like a college football student-athlete. The program is going to take place at the state of the art Seibert Stadium which is on the Samford University campus.